Hello everyone and welcome back to another Taylor Tuesday Blog post where we discuss all things Taylor Guitars.  We have been selling Taylors for a while now, and have thoroughly enjoyed the experience.  It is our job to help you "Fall in Love" with a guitar, and when we have guitars like the ones we get from Taylor Guitar Co., that job becomes a lot easier.  Taylor has been on the cutting edge of innovation as a guitar company since their founding in 1974.
 (Bob Taylor on the left, Kurt Listug on the right in 1985)
Bob Taylor and Kurt Listug founded the company and have always tried their best to integrate the most modern tools, ideas, and techniques with an old sense of craftsmanship and attention to detail.  Now, 44 years later, they have created a whole team of builders and designers who are constantly thinking about how to improve the process of building acoustic instruments.  At the head of this team is Andy  Powers, Head of Design at Taylor Guitars. 
Powers has been building instruments since he was young, and actually met Bob Taylor at a concert in San Diego when he was 15.  Powers showed him a ukulele that he had built.  We're sure it must have been a tense moment for the young Andy to hand off his little project to an iconic guitar builder and watch him inspect it.  Bob though, was actually thoroughly impressed by the quality of the ukulele.  Taylor told the young Andy if he ever needed a job to give him a call. 
It's no surprise that Bob Taylor was impressed by the ukulele, as Powers had a knack for building good ones. Apparently, the ukulele that Elvis Costello used on his Delivery Man album was built by an 18 year old Andy Powers. Andy had this to say about it in an interview with Guitar Player Magazine:
"Yes, when I was 18 or 19 I took a uke I had built with me to a festival in Hawaii, and I left it there at a shop that sold high-end ukes. A couple of months later, I was looking through Rolling Stone and there was a story on Elvis Costello, who had just made a record called The Delivery Man, and he's holding that uke I had built. I heard the tune he'd recorded with Emmylou Harris, and I remember thinking, "I built and played that uke, but I don't remember it ever sounding like that." He really pulled some cool stuff out of that instrument."
We here at Heartbreaker found this old video of Costello playing what is presumably that Ukulele.
Now, for almost 20 years, Powers continued his own career in music and in instrument building and Bob went about building one of the premier high-end acoustic guitar companies in the world and the offered job was slowly forgotten.  That was until a NAMM show where Andy was playing with Jason Mraz and the two happened to bump into each other.  Andy reminded Bob of their former meeting and it planted a seed in the mind of Bob Taylor.  Bob had been thinking a lot about the future and the need for an eventual successor and realized Andy ticked every box for what he would want in a successor.  He was young, a great builder, and a great player with a passion for the craft -  Plus his middle name is Taylor.  Like come on, how much more of a sign do you need?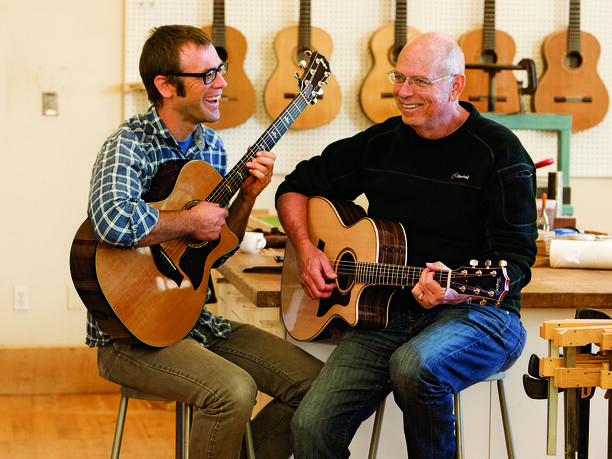 (Andy Powers and Bob Taylor)  
After a bit more investigation, Bob again asked Andy to come work for him, and Andy accepted the role as Head of Guitar Design at Taylor.  That was in 2011.  Since then Andy has brought a freshness and a wave of new ideas that has seen a massive revitalization of this already great guitar company.  He created the Grand Orchestra Style guitars for Taylor, and also was responsible for the much lauded reinvention of the 800 and 600 series back in 2014.  He has also challenged every preconceived "law" of building guitars to try and reimagine how it can be done, with the full backing of Taylor Guitars. 
Andy, though, has saved one of his greatest accomplishments for this past year, where he and Taylor have introduced his new V-Class Bracing system. V-Class is a revolutionary development in the acoustic guitar building world. It tackles a traditionally problematic trade-off with standard X-Bracing. Let us explain:
Traditional Bracing
What is it?
What you see in the picture above is a standard Taylor X Bracing pattern from 2012. It features the iconic X that the name of the style is derived from, as well as all the cross bracing. In this picture, the center of the X is in a standard position, leading to a neutral tone. There are many other ways the X-Bracing pattern has been altered, from bracing profile to offering alternative side bracing and even Taylor's patented Relief Route system, but the main decision X-Bracing builders make is whether too make the guitar rear-shifted, front-shifted, or standard. So let's take a minute to dive into the differences, as well as the pro's and cons of each style to help us understand why V-Class Bracing is so revolutionary.
Rear-Shifted Bracing
Rear-shifted bracing is the process of moving the center of the X in an X-Braced guitar down on the guitar towards the lower bout. This has several effects on the tone and structure of the guitar. Lets start with the tone. The space in the lower bout is where most of the resonance is created in a guitar. The more it is allowed to vibrate, the more bass and volume you will get out of a guitar. By moving the joint of the bracing to this area, it is stiffened, thus preventing as much of this vibration and limiting the tone of the guitar. It often creates quieter, more mid-heavy guitars. You often find this style in lower end guitars, or high-end guitars going for a very specific tone. 
The benefits to this style, though, is stability and strength. Have you ever wondered why there are a thousand Kays, Harmonys, and other entry level guitars from half a century ago still around and in good shape without so much as ever receiving a tune-up, despite being crafted less precisely and often with inferior materials? Well, there are several reasons for that, but one of the major ones is that they are often rear-shifted, creating strength in the lower bout, which is often the weakest section of a guitar. 
Front Shifted Bracing
Front-shifted bracing essentially takes all those principals, and reverses them. So they move the X forward towards the soundhole, opening up the lower bout and giving power to the tone of the guitar. These guitars are often considerably brighter and more responsive. You will often find this style in high-end guitars, especially large bodied ones.
The downside, however, is that structurally these guitars suffer, as they are less braced in the portion of this guitar that is under the most stress due to string tension. There can be around 180lbs of pressure caused from string tension, and so if you're not braced for that, guitars that aren't meticulously maintained tend to suffer catastrophic failures over-time. 
Standard Position
Both Rear-shifted and Front-shifted bracing are alterations on the standard position, which sort of attempts to find a balance between the two extremes. Standard position is the most common and features the center of the X in a neutral position between the soundhole and the lower bout. 
As you can imagine, trying to balance all these issues and factors and find the perfect center position has given guitar makers headaches for decades. Many have tried numerous things to mitigate the downsides of all the styles, from hand-shaped bracing profiles, to variable top-wood thickness, to selling their souls at the crossroads. Andy Powers decided he was done with the headache and started over from scratch. This meant doing something even some of the best builders are always hesitant to do: he scrapped the X.  
V-Class Bracing 

Now, moving back two letter in the alphabet might not seem like that big of a deal, but the genius of the V-Class bracing stems from more than just the shape of the bracing. As Andy looked at an X braced guitar, he realized the problem wasn't where the braces were placed, it was the joint. So he moved the joint all the way back, giving a lot more strength to the bottom of the lower bout, and letting it open up as you reach the middle. It also has the added effect of driving the sound back towards the sound hole. 
The effects of this are numerous, so lets break it down step by step by pointing out how V-Class tackles each traditional issue individually.
 Tonal Restriction
The great issue with rear-shifted guitars is the limitation of movement it puts on the lower bout. The lower bout gives you most of your tone, and needs the ability to shift and vibrate to do that. V-Class bracing has shifted the joint, allowing for a greater freedom of movement for the lower bout than you see in most front-shifted guitars, never mind rear-shifted guitars. It creates a nice, bright, and most importantly balanced tone that projects incredibly clearly.  The stiffness it gives to the outer edges of the top wood also helps to increase the sustain of the guitar. 
Stability
This is a huge issue. When you spend $3,000.00 on a guitar, that is a major investment. You want it to last a lifetime, even after a lifetime of gigging. Unfortunately, that is not usually the case. High-end guitars that see the road and a lot of use tend to not hold up as well over the years. That is often due to the front-shifted nature of the bracing. How many times have we seen this:
It's heartbreaking to see, but unfortunately all too common in traditional high-end guitars. Luckily, that doesn't have to be the case anymore. V-Class bracing is not only more open tonally than a lot of front-shifted X-braced guitars, but it also is significantly stronger structurally. It's a guitar that you can grown old with, and one day sit with on a rocking chair on a front porch, watching the cars go by. Isn't that all any of us want? 
So why is it structurally more sound? Well, as you can see from the picture above, a lot of lower bout fractures occur from the edge of the lower bout up. That is because the bracing in a traditional X-Braced guitar is weakest at that point, as the bracings are farthest apart there. With V-Class, the bracing is actually strongest there, and opens up towards the upper bout, where guitars are typically much stronger. 
Comfort
One thing that isn't as heralded is just how comfortable and easy to play this guitar is. The V-Class pattern is considerably more efficient, so it requires a lot less material. You notice it when you pick the guitars up too. They just feel light, and sturdy. It gives you a nice confidence and comfort when you play. 
Tonal Balance
Another benefit to the added stability of the top is the balance it gives to the notes. Notes a crossed the EQ spectrum receive the same sonic attention, so the whole guitar sounds in tune with itself to a greater degree than most players have come to expect. Not only does that help a rhythm players chords sound more full, but if you're playing lead and exploring up the neck, you'll notice there are no dead spots on the guitar. All the notes ring clearly.   
The End Product
 So what does all this mean in practice. Will you even notice the difference? Is V-Class Bracing really all everyone is hyping it up to be? We know so. We love them! Picking one up you can almost instantly tell the difference, even if you don't fully understand the nuts and bolts of why? Now of course, we are just guys who sell guitars, but if you don't believe us, come play one! Can't do that right away, then listen to these industry leading players talk about them:
V-Class Bracing can help change the way you play guitar and help you to "Fall in Love" with the craft all over again. We can't recommend it enough, and if you want yours today, just click here to browse our inventory of Taylor Guitars!